Webmaster for Hire
What can a webmaster do for my business?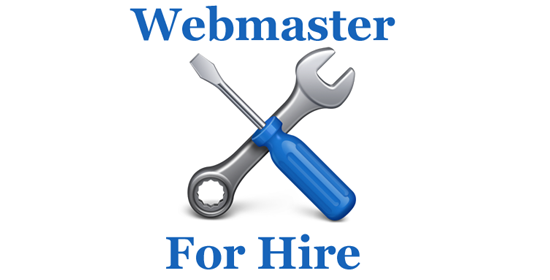 Why Hire a Webmaster Services

Our monthly webmaster plans are perfect for the individual or small business. Can your business benefit from 1 to 10 hours of work each month. We can complete ongoing web related tasks that might be taking your time away from more important business needs. For larger companies, annual contracts for webmaster services work best because they cover a broader spectrum of needs and hours.

Affordable webmaster services for your website. With hosting or without. Basic webmaster service offered in service type varieties. You choose which works best for you.

Webmaster Support
You can pass tasks onto our webmasters such as website CMS updates, minor customizations, SEO, content creation, social media, keyword buys and tracking, analytics, installs, replication and adding new areas. We take the pain out of understanding how all of your current web technologies work together. Ongoing website maintenance gives you assurance that your website is always up to date, secure, and performing at its maximum speed potential. If we see a smarter or more economical way of implementation, we will make a recommendation. This is only the beginning of what we do.

Need a once off update / general walk-thru of your site? Let us handle it for you. Adhoc is for clients that need work right away, and know the spectrum of work needed. Website work is quoted at a flat rate and usually at a fixed price, and almost always delivered post payment or on a 50/50 payment agreement. Most types of website maintenance include things such as image replacement, copy insertion/removal, CSS edits, PHP or server side language fixes, SQL tweaks, or even whole site walk through for optimization.

Website Maintenance
We offer cross browser testing to ensure your website is rendering correctly in all the major browsers. Pesky problems with servers, whether it is a simple fix or Apache tuning, we can handle it. No surprise charges, or ongoing fees.
Your clients and customers expect 100% uptime and fast responses to critical situations. If you are in a bind, give us a call!

Responsive Website Design
We are designers and developer and can redesign your entire web presence.
Let us develop your next internet project
Getting started is easy!

You can contact us by phone (Local: 561-281-8330, Toll Free: 1-866-klicktt or by email at info@klicktwice.com.