Pinterest SEO | Search Engine Optimization strategy
Seo and Pinterest | Search Engine Optimization strategy?
You've optimized every part of your website – but have you checked your Pinterest SEO potential? Learn how to use Pinterest to increase your search ranking and drive traffic to your site.
It's no secret that SEO is an extremely important part of any marketing mix. The right keywords, linking to the right content, shared to the right sites, help your domain rank higher in search. However, there's probably a valuable tool for traffic that you haven't thought of – Pinterest SEO. By applying a few tweaks to your Pinterest profile, pins and website, you can easily take advantage of Pinterest's viral nature and receive the SEO bump you've been looking for.
The key to Pinterest SEO value starts above your entire profile – in the URL. Choosing the right username is much like choosing the right website domain; it should be straightforward, but it's not. Not only do you have to beware of other users who have potentially stolen your company name, you also must beware of the 15 character limit imposed on usernames. If your company name is already taken – or if your name is too long – HubSpot suggests choosing a memorable, easy-to-spell keyword related to your business. For example, Martha Stewart Weddings in the Middle East used "MSWeddingsME" for their username so they could include the valuable keyword, "weddings," in the name while differentiating themselves from the other Martha Stewart accounts.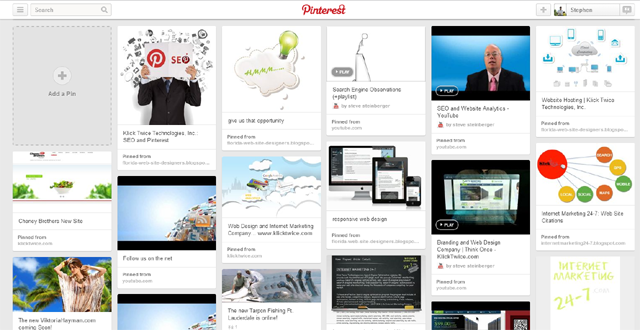 Although you have more freedom with your profile name, it's still important to keep it simple. Don't try and be cute; just stick with your company name! Using the CEO's name, marketing manager name or any other person's name makes it nearly impossible for users to find you via search. You have 200 characters in the about me section, so use them wisely. Check out your Google Analytics to see what drives people to your site to decide what keywords and phrases should be used. Just make sure to keep it easy to read and not overly "keyword-y.".
Do you know the name of the file used for your profile picture? If it reads something like "logo3.png,", then it's time to update! Even though it's not visible to the typical consumer, the file name of your profile image affects alt text and image search results. Rename the file to your company name, company slogan or anything else descriptive of your company.
Are you a local business? No problem. Pinterest is still a great SEO opportunity for you. Use the location place on your profile to show where you are, (avoiding less-known abbreviations for your town is a good idea here). Using some of those 200 characters in the "About me" section for local keywords wouldn't hurt, either. For instance, since Tailwind is based in Oklahoma City, we could include "Okie" "Thunder" "OKC", etc. in our description to find local traffic. Pinterest provides you with some basic board names when you sign up, like "My Style" or "Places & Spaces", but who's going to search for that? Using keywords relevant to your company create boards with unique, relevant titles under 20 characters. Each board has its own 500 character description available where you can write a keyword-rich narrative about the board topic. Having boards related to topics of interest to your audience helps both current and future fans find you in search. Pinterest categories can be your best friend when it comes to promoting your boards. During the board creation process, there is an option to select which Pinterest category the board belongs in. Once a category is selected, pins pinned to your board have the opportunity to show up on those category pages, allowing them to be seen and shared by any Pinterest user.
Your pins are yet another opportunity to squeeze in some relevant keywords. When pinning from your own site, it's good to include the full link (shortened links may be considered spam), as well as relevant keywords in the description. Also, don't think you can slack when repining content! By throwing in a few keywords relevant to your company, you can potentially attract your target user through search.
Connecting your Facebook and Twitter accounts to your Pinterest account is a great way to cross-promote your brand following. By simply posting on Twitter or Facebook about your Pinterest presence, users who are already fans of your brand know to follow you on Pinterest as well. Having a strong social presence connected to your website signifies to Google that you're a trusted source of information, giving you a nice SEO bump.
To send traffic to your site, you must interact with your audience! Repin, comment and like others pins. Building relationships over Pinterest will, in turn, create an engaged following willing to share your content to others. After all, at the end of the day, your fans are the best tool in your marketing toolkit.
Getting started is easy!

You can contact us by phone at 561-281-8330 or by email at info@klicktwice.com.