Key Performance Indicators
KPI, measurements reflecting website performance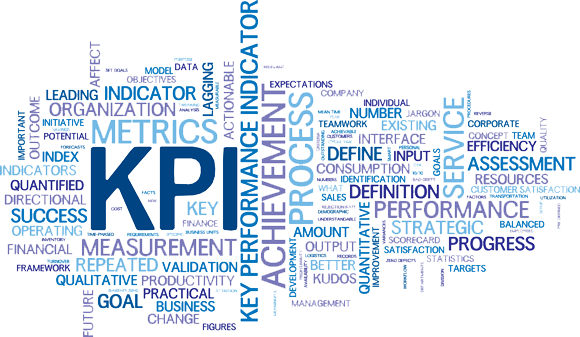 KPIs serve to reduce the complex nature of organizational performance to a small number of key indicators in order to make performance more understandable and digestible. When you go to your doctor he might measure blood pressure, cholesterol levels, heart rate and your body mass index as key indicators of your health. With KPIs we are trying to do the same in our organizations.
For many it describes any form of measurement data and performance metrics used to measure business performance. Instead of clearly identifying the information needs and then carefully designing the most appropriate indicators to assess performance, we often observe what we have termed the 'ICE' approach:  Identify everything that is easy to measure and count  Collect and report the data on everything that is easy to measure and count  End up scratching your head thinking "What the heck are we going to do with all this performance data stuff?
Can we measure anything? Yes, there is nothing that we cannot measure. But at the same time we have to be aware that we can't design perfect indicators that will measure things perfectly. KPIs are there to give us information which helps us to make better informed decisions. It is about reducing uncertainty and it is therefore okay to use proxy indicators.
How to design KPIs: The question is the answer A good starting point is therefore to come up with the questions you want to have an answer to before you start designing KPIs. One or two so-called Key Performance Questions (KPQs) should be identified for each strategic objective. KPQs will help you articulate the information needs which in turn allow you to design the right performance indicators to help you answer your KPQs.
An example of how powerful KPQs can be in strategic performance management comes from Google – one of today's most successful and most admired companies.
Google's CEO Eric Schmidt says:
"We run the company by questions, not by answers. So in the strategy process we've so far formulated 30 questions that we have to answer. You ask it as a question, rather than a pithy answer, and that stimulates conversation. Out of the conversation comes innovation. Innovation is not something that I just wake up one day and say 'I want to innovate.' I think you get a better innovative culture if you ask it as a question."
So what do you need to know? That is the question.
Let us develop your next internet project
Getting started is easy!

You can contact us by phone at 561-281-8330 or by email at info@klicktwice.com.